If You Want to Know and Purchases Fine Group's Analogue Compression Testing Machines. Then, You Can Contact us Shortly and Check Features. We added here detailed specifications for the Analogue Compression Testing Machines (Model : FCT, FCT-E, FCT-EC).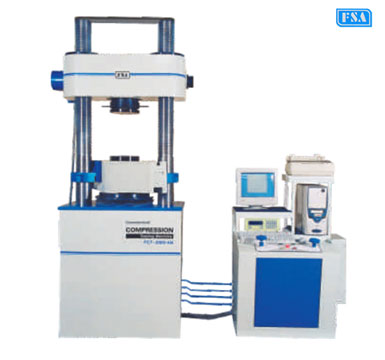 Suitable for testing a wide range of materials.
Wide range of standard & special (Optional) Accessories such as – Load-Stabilizer, Attachments for Brinell test, etc are available.
Various Models – Maximum Capacity from 100 kN to 3000 kN.
Loading accuracy well within ±1%, conforms to IS:1828 / BS:1610.
Analogue, Digital & Computerized versions are available.
Technical Specification for Dial Type Analogue Compression Testing Machines
SPECIFICATION
MODEL
FCT-500 kN
FCT-1000 kN
FCT-2000 kN
FCT-3000 kN
Maximum capacity (kN)
500
1000
2000
3000
1st Measuring Range (kN)
0 – 500
0 – 1000
0 – 2000
0 – 3000
Least count (kN)
1
2
4
5
2nd Measuring Range (kN)
0 – 250
0 – 500
0 – 1000
0 – 1500
Least count (kN)
0.5
1
2
2.5
3rd Measuring Range (kN)
0 – 100
0 – 250
0 – 500
0 – 600
Least count (kN)
0.2
0.5
1
1
4th Measuring Range (kN)
0 – 50
0 – 100
0 – 250
0 – 300
Least count (kN)
0.1
0.2
0.5
0.5
Number of divisions on load measuring dial
500
500
500
600
General Common Specifications (for all versions) –
Maximum capacity (kN)
500
1000
2000
3000
Maximum clearance for compression test at fully decended piston position (mm)
500
500
700
700
Piston Stroke (mm)
100
100
150
150
Power Supply
3 ph   415V   50 Hz    A.C.
HP (Total)
1.5
2
3
6
Weight in kgs. (approx)
2000
2600
3600
8200

Technical Specification for Digital Compression Testing Machines
SPECIFICATION
MODEL
FCT-E-500 kN
FCT-E-1000 kN
FCT-E-2000 kN
FCT-E-3000 kN
Maximum capacity (kN)
500
1000
2000
3000
Measuring Range (kN)
0 – 500
0 – 1000
0 – 2000
0 – 3000
Least count (kN)
0.05
0.1
0.2
0.3
Resolution of Piston Movement (mm)
0.1
0.1
0.1
0.1
General Common Specifications (for all versions) –
Maximum capacity (kN)
500
1000
2000
3000
Maximum clearance for compression test at fully decended piston position (mm)
500
500
700
700
Piston Stroke (mm)
100
100
150
150
Power Supply
3 ph   415V   50 Hz    A.C.
HP (Total)
1.5
2
3
6
Weight in kgs. (approx)
2000
2600
3600
8200
Technical Specification for Computerised Compression Testing Machines
SPECIFICATION
MODEL
FCT-EC-500 kN

FCT-EC-1000 kN

FCT-EC-2000 kN

FCT-EC-3000 kN
Maximum capacity (kN)
500
1000
2000
3000
Measuring Range (kN)
0 – 500
0 – 1000
0 – 2000
0 – 3000
Least count (kN)
0.05
0.1
0.2
0.3
Resolution of Piston Movement (mm)
0.1
0.1
0.1
0.1
General Common Specifications (for all versions) –
Maximum capacity (kN)
500
1000
2000
3000
Maximum clearance for compression test at fully decended piston position (mm)
500
500
700
700
Piston Stroke (mm)
100
100
150
150
Power Supply
3 ph   415V   50 Hz    A.C.
HP (Total)
1.5
2
3
6
Weight in kgs. (approx)
2000
2600
3600
8200