If You Want to Know and Purchases Fine Group's Analogue Universal Testing Machines. Then, You Can Contact us Shortly and Check Features. We added here detailed specifications for the Analogue Universal Testing Machines (Model : TUN).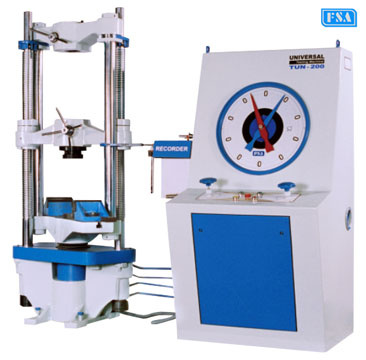 Variety of tests like Tension, Compression, Tranverse, etc. are conducted.
Continuous roll autographic "Load Vs Elongation" recorder.
Suitable for testing a wide range of metallic materials.
Extra (Optional) Accessories such as – Mechanical Extensometer, Load-Stabilizer, Attachments for Brinell test, Tensile test for shouldered & threaded, Single & Double shear test, Bolts-Nuts & Washer test, Rope test, Flat Belt test, Bend-Rebend test, 180° Bend test, Pull-Out test, etc. are available.
Capacities from 100 kN to 2000 kN.
Various Analogue Models – TUN-100, TUN-200, TUN-400, TUN-600, TUN-1000 & TUN-2000.
Loading accuracy well within ±1%, conforms to IS:1828 / BS:1610.
Technical Specification for Analogue Versions
| | | | | | | |
| --- | --- | --- | --- | --- | --- | --- |
| MODEL | TUN-100 | TUN-200 | TUN-400 | TUN-600 | TUN-1000 | TUN-2000 |
| Measuring Capacity(kN) | 100 | 200 | 400 | 600 | 1000 | 2000 |
| 1'st Range (kN) | 0 – 100 | 0 – 200 | 0 – 400 | 0 – 600 | 0 – 1000 | 0 – 2000 |
| Least Count (kN) | 0.2 | 0.4 | 0.8 | 1 | 2 | 4 |
| 2'nd Range (kN) | 0 – 50 | 0 – 100 | 0 – 200 | 0 – 300 | 0 – 500 | 0 – 1000 |
| Least Count (kN) | 0.1 | 0.2 | 0.4 | 0.5 | 1 | 2 |
| 3'rd Range (kN) | 0 – 25 | 0 – 50 | 0 – 100 | 0 – 120 | 0 – 250 | 0 – 500 |
| Least Count (kN) | 0.05 | 0.1 | 0.2 | 0.2 | 0.5 | 1 |
| 4'th Range (kN) | 0 – 10 | 0 – 20 | 0 – 40 | 0 – 60 | 0 – 100 | 0 – 200 |
| Least Count (kN) | 0.02 | 0.04 | 0.08 | 0.1 | 0.2 | 0.4 |
| Overall dimensions approx. (mm) | 1950 x 800 x 1850 | 2000 x 800 x 1900 | 2100 x 800 x 2060 | 2200 x 800 x 2400 | 2350 x 800 x 2700 | 3000 x 800 x 3600 |
| Weight approx (kg) | 1200 | 1300 | 2100 | 3100 | 4100 | 8500 |

Common Specification for all Versions
MODEL
TUN-100
TUN-200
TUN-400
TUN-600
TUN-1000
TUN-2000
Measuring Capacity(kN)
100
200
400
600
1000
2000
Max. Tensile Clearance at fully decended piston position (mm)
50 – 700
50 – 700
50 – 700
50 – 800
50 – 850
50 – 900
Max. Clearance for Compression Test (mm)
0 – 700
0 – 700
0 – 700
0 – 800
0 – 850
0 – 900
Distance between columns (mm)
450
500
500
600
750
850
Piston Stroke (mm)
150
200
200
250
250
300
Max. straining speed at no load (mm/min)
300
150
150
100
80
45
Power Supply
3 phase 415V 50Hz AC
Total H.P.
1.5
1.5
2.5
2.5
4.0
6.5

Standard Accessories for all Version
MODEL
TUN-100
TUN-200
TUN-400
TUN-600
TUN-1000
TUN-2000
Pair for compression plate dia (mm)
120
120
120
120
160
220
Tension Test Jaws
For Round Specimen dia (mm)
10 – 20
10 – 20
10 – 25
10 – 25
10 – 30
20 – 40
For Round Specimen dia (mm)
20 – 30
20 – 30
25 – 40
25 – 40
30 – 50
40 – 60
For Round Specimen dia (mm)
–
–
–
40 – 55
50 – 70
60 – 80
For Flat Specimen Thickness (mm)
0 – 10
0 – 10
0 – 15
0 – 15
0 – 22
0 – 22
For Flat Specimen Thickness (mm)
10 – 20
10 – 20
15 – 30
15 – 30
22 – 44
22 – 45
For Flat Specimen Thickness (mm)
–
–
–
–
44 – 65
45 – 70
Max. width of Flat Specimen (mm)
50
50
65
70
70
90
Transverse Test
Adjustable Roller Support of width (mm)
150
150
150
160
160
200
Diameter (mm)
30
30
30
50
50
70
With Max. adjustable clearance (mm)
450
500
500
600
800
900
Punch tops of radius (mm)
6
6
10
16
16
30
Punch tops of radius (mm)
12
12
16
22
22
40