If You Want to Know and Purchases Fine Group's Analogue Compression Testing Machines. Then, You Can Contact us Shortly and Check Features. We added here detailed specifications for the Analogue Compression Testing Machines (Model : FCT, FCT-E, FCT-EC).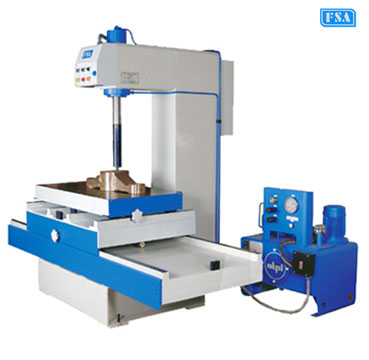 The machine has a heavy, robust, C-type load frame & has been designed for production testing of heavy components for Brinell hardness value. This machine is suitable for foundries, engineering industry, forging plants, automobile industries, on production line.
Load stages – 750 kgf and 3000 kgf.
Since most of the operations are fast and automatic, the test speed is high with less operator fatigue.
A roller conveyor type sliding heavy table (base) for taking impression.
Computerized model is available .Computerized model has built in CCD and suitable advanced software. Hardness will be displayed on computer monitor automatically. Results printout can be taken.
Accuracy conforming to IS:2281.