If You Want to Know and Purchases Fine Group's Leaf Spring Testing Machines. Then, You Can Contact us Shortly and Check Features. We added here detailed specifications for the Leaf Spring Testing Machines (Model : FST, FST-E, FST-EC).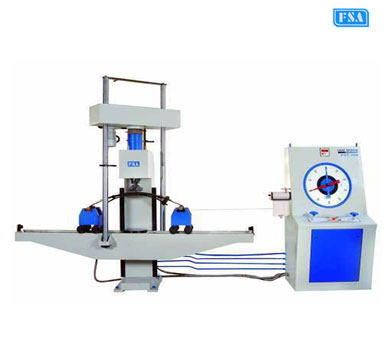 The machine is used to test wide range of Leaf / Laminated Springs for load rate as per IS:1135-1984.
Measuring ranges available with auto load selection facility.
Large size table for wide range of springs with motorized rapid adjustment of test height.
Standard autographic recorder.
Over load & Over travel safety provisions.
Facility of Compression, Shear, Brinell & Bending test with extra accessories.
Load stabilizer (Optional) is an extra attachment used to maintain a desired load constant at specific deflection
Enabling measuring it easily & accurately.
We can also supply machines for Helical compression springs & Disc springs.
Various Models – Maximum Capacity from 100 kN to 500 kN.
Loading accuracy well within ±1%, conforms to IS:1828 / BS:1610.
Analogue, Digital & Computerized versions are available.
Technical Specification for Leaf Spring Testing Machines
| | | | | | |
| --- | --- | --- | --- | --- | --- |
| MODEL | STM-60 | STM-100 | FST-100 | FST-200 | FST-500 |
| Maximum Capacity (kN) | 60 | 100 | 100 | 200 | 500 |
| 1st Range (kN) | 0 – 60 | 0 – 100 | 0 – 100 | 0 – 200 | 0 – 500 |
| Least count (kN) | 0.1 | 0.2 | 0.2 | 0.4 | 1.0 |
| 2nd Range (kN) | 0 – 30 | 0 – 50 | 0 – 50 | 0 – 100 | 0 – 250 |
| Least count (kN) | 0.05 | 0.1 | 0.1 | 0.2 | 0.5 |
| 3rd Range (kN) | 0 – 18 | 0 – 25 | 0 – 25 | 0 – 40 | 0 – 100 |
| Least count (kN) | 0.03 | 0.05 | 0.05 | 0.08 | 0.2 |
| Table size (mm) | – | – | 250 x 2400 | 460 x 2650 | 460 x 2650 |
| Clearance for-compression test (mm) | 0 – 1250 | 0 – 1250 | 0 – 400 | 0 – 650 | 0 – 750 |
| Distance between trolleys (adjustable) (mm) | – | – | 500 – 2150 | 650 – 2150 | 850 – 2300 |
| Ram stroke (mm) | 200 | 200 | 250 | 250 | 300 |
| Straining speed at no load (mm/min.) | 0 – 200 | 0 – 125 | 0 – 250 | 0 – 150 | 0 – 100 |
| Pair of compression plates dia (mm) | 350 | 350 | 250 | 400 | 450 |
| Least count of deflection Measurement with DRO (mm) | 0.1 | 0.1 | 0.1 | 0.1 | 0.1 |
| Clearance between columns (mm) | 450 | 450 | – | – | – |
| Width of recorder chart (mm) | 150 | 150 | 150 | 150 | 150 |
| Connected load (HP) | 1.5 | 1.5 | 1.5 | 2.0 | 3.0 |
| Voltage (V) | 440 | 440 | 440 | 440 | 440 |
| Phase (Ph) | 3 | 3 | 3 | 3 | 3 |